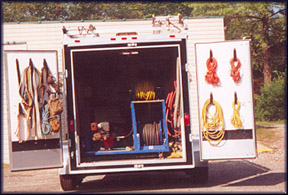 Step 1
Before
Upon our arrival at your facility, you will quickly notice that we come totally prepared to do battle against the grime in your spray booth.
Our arsenal of weapons are neatly organized into a 7' X 14' inclosed box-trailer. Inside this mobile arsenal are 3 industrial pressure washers with over 10,000psi of raw cleaning power. Also on this mobile unit is a sludge separator which enables us to capture all contaminants removed during the cleaning process, making us enviromentally conscious.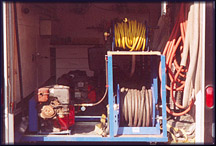 These are just a few of the over $20,000 worth of equipment available with our cleaning expertise.